Aloha.... from Ripcurls French Team Rider Elise Garrigue
Since the first day I heard about eco surfboards I have been very excited. I am today so happy to have these boards and be able to give you feedback.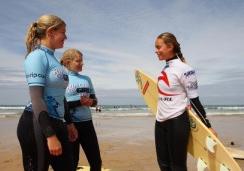 My New teamrider surfboard:
(Swell ecoblank and EcoComp® UV-L resin)

"I have surfed my 6'0' since the day I touched it but only the weekend I was in Newquay because I have not surfed since.

3 times I surfed the 6'0' eco board at fistral beach and it surprised me.
it feels a touch more heavy then a 'normal' board but the flotation/buoyancy is very good, perfect.

The glide and speed on the wave seems very correct
the last surf I found a little consistant right hander backside, and got a better feel for manouvers, it flowed well, the tail is a little bit different from what I am used to but that is on the shaping aspect.

The interesting thing I noticed is when pressing a finger on the resin to make a little pressure on the surface, well, it doesn't keep the pressure dip, it gets back to its straight surface line... it made me smile! the surface of these surfboards does not memorize little pressure dips.

other than the colour, which I like the authentic aspect, WOW, what a creation.

Until then, this is the best dream of my surfing life" :)

Aloha,

Elise